Description of :
Terranova Hotel is a small but modern and comfortable hotel inaugurated in 1994, wich have been designed to feature service excellence to our clients in this bouyant Catalonia's Valles basin.
Rooms: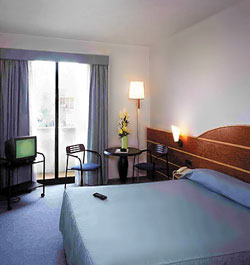 view more photos
This hotel opened in 1994 and all its rooms are en suite with full bathroom, air conditioning, central heating, telephone, TV satellite, internet conexion, safe deposit.
Room facilities
Prices at this hotel from € 64.20
check availability and prices in quickSearch to the right.
Facilities:
Hotel offer extensive facilities, for a two star hotel, such as laundry service, restaurant, cafeteria, outdoor swimming pool, and parking close to the hotel.
Hotel facilities
Location:
Just 21 Km from Barcelona, located between "Tunels de Vallvidriera" and Railway A2 and A7, in Rubi village. In a residential quarter, next to the Business Park of Rubi and the Train Station. Next to the hotel you will find a large commercial center with shops, terraces, bars and restaurants. Also is very well connected by public transport, only at 100 metres.
Cancellation policy:
There is no upfront payment, we require valid credit card details to guarantee the reservation, however all clients pay direct to the hotel upon departure. Your credit card will be validated to secure your booking.
There is no charge if cancellations are made one (1) day prior arrival: Cancellations made on the day of arrival or no-shows will be charged one (1) night cancellation / no-show fee.